Visiting the Pearl Shop Click the Pearl Shop icon in the lower-right corner of your game screen to visit. In the Pearl Shop, you can find several items: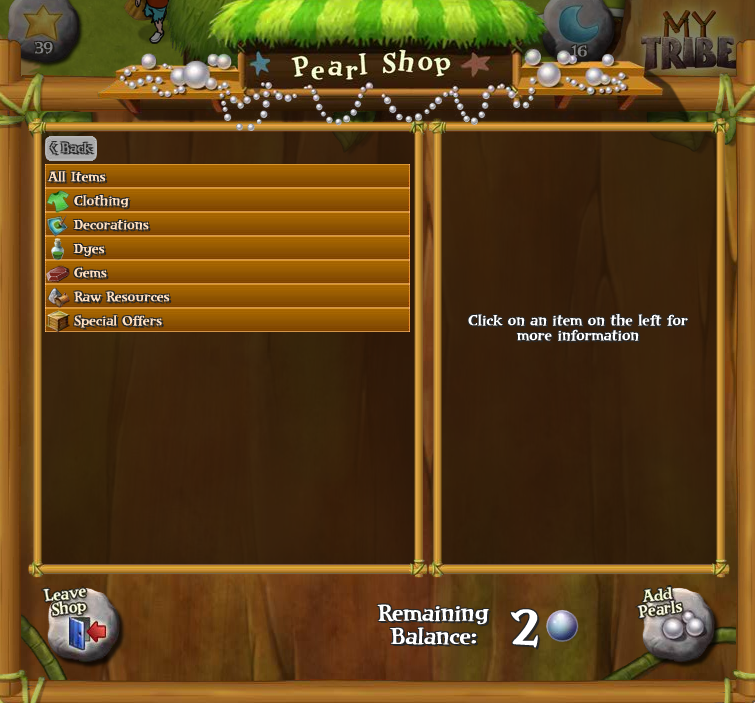 Fashion your tribespeople in bottoms, hats, shoes, and tops. The Pearl Shop is currently the only place you can find shoes and hats. Even though you can see their icons on the crates and barrels, no one has reported actually receiving these from the crates or barrels.
Beautify your Island with some exclusive decorations.
Use dyes to make the clothing more attractive and personalize a tribesperson's appearance.
Gems can add both strength and skill when used on an item of clothing.
Resources range from necessities, such as wood, to luxury items, like silk. Most of these items can be found on the island, but they can also be purchased with pearls in case your tribespeople run short or you want to get something done more quickly.
Special Offers will vary so visit the Pearl Shop every so often to see if the listed items may be of interest to your tribespeople.