Dyes can be made using recipes you find in crates. You can also get individual dyes, but not necessarily the recipe to recreate them, from crates, leveling up, and completing quests.
Dyes are used to customize, individualize, and beautify your tribespeople. They do not increase skills, but change the color of the clothing items they are being applied to. Keep in mind, once the item of clothing is dyed, it can not be dyed again - the color can not be changed.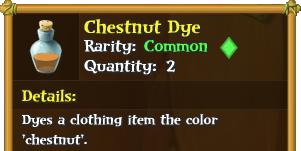 You can only find recipes for dyes in crates.
Every recipe includes a berry and some other item or two like bird guano, mushrooms, stardust, moondust, golden relics, shells, or more berries.
Simple Dyes
Edit
Simple Dyes are classified as easy to make dyes. This is due to the fact that they do not require important resources such as Moondust or Stardust or a Dyemaking level higher than Level 2.
Some example are below:
Barnacle Dye - 1 greyberry, 18 shells, 8 bird guano
Black Dye - 1 darkberry, 15 mushrooms
Blizzard Dye - 1 snowberry, 1 polarberry, 9 bird guano
Blush Dye - 1 softberry, 34 shells, 11 mushrooms
Brass Dye - 1 dogberry, 1 golden relic
Brown Dye - 1 bearberry, 1 cocoaberry, 13 mushrooms
Burnt Orange Dye - 1 fireberry, 1 sunberry, 11 mushrooms
Burnt Sienna Dye - 1 rootberry, 26 shells, 11 mushrooms
Chestnut Dye - 1 earthberry, 11 mushrooms
Cream Dye - 1 creamberry, 1 iceberry, 13 bird guano
Eggplant Dye - 1 riddleberry, 11 mushrooms
Lunar Gray Dye - 1 rockberry, 22 shells
Navy Blue Dye - 1 catberry, 1 blueberry, 10 mushrooms
Ocean Blue Dye - 1 seaberry, 21 shells, 8 mushrooms
Rascal Red Dye - 1 heartberry, 13 mushrooms
Rugged Red Dye - 1 hotberry, 25 shells, 8 bird guano
Rust Dye - 1 rustberry, 1 golden relic, 14 shells
Royal Blue Dye - 1 royalberry, 27 shells
Salmon Dye - 1 snackberry, 22 shells, 8 bird guano
Sky Blue Dye - 1 cloudberry, 24 shells
Turquoise Dye - 1 fishberry, 29 shells, 11 bird guano
Yellow Dye - 1 chuckberry, 10 bird guano, 11 mushrooms
Here is a list of all available dyes. It can be used to compare clothing colours. (hover over the image for the dye's name, dyes with * next to the name are available in the Pearl Shop)
Dye Name
Rarity
Obtained from
Dyemaking Level
Crafting Requirments
Crafting XP
Almond
Common

Crate
Recipe

Dyemaking 1
1 Beanberry
2 Moondust
21 Shells
2
Apricot
Common
Crate
Recipe
None
1 Angelberry
28 Shells
3 Stardust
2
Aquamarine
Legendary
Crate
Unknown
Unknown
Unknown
Asparagus
Uncommon
Crate
Recipe
Dyemaking 1
1 Sourberry
2 Moondust
31 Shells
5
Banana
Uncommon
Crate
Recipe
Dyemaking 2
1 Dawnberry
3 Stardust
7 Bird Guano
5
Barnacle
Common
Crate
Recipe
None
1 Greyberry
18 Shells
8 Bird Guano
2
Black
Uncommon
Crate
Recipe
Dyemaking 2
1 Darkberry
15 Mushrooms
5
Blizzard
Uncommon
Crate
Recipe
None
1 Snowberry
1 Polarberry
9 Bird Guano
5
Blue
Uncommon
Crate
Recipe
Dyemaking 1
1 Coolberry
2 Moondust
5
Blush
Rare
Crate
Recipe
Level 24 Reward
Dyemaking 2
1 Softberry
34 Shells
11 Mushrooms
10
Brass
Common
Crate
Recipe
None
1 Dogberry
1 Golden Relic
2
Brick
Uncommon
Crate
Recipe
Level 18 Reward
Dyemaking 1
1 Elderberry
30 Shells
3 Stardust
5
Brown
Common
Crate
Recipe
None
1 Bearberry
1 Cocoaberry
13 Mushrooms
2
Bubbling Blue
Common
Crate
Recipe
None
1 Rainberry
14 Mushrooms
3 Stardust
2
Burnt Copper
Uncommon
Crate
Recipe
Dyemaking 2
1 Fireberry
1 Gooseberry
3 Stardust
5
Burnt Orange
Uncommon
Crate
Recipe
Dyemaking 2
1 Fireberry
1 Sunberry
11 Mushrooms
5
Burnt Sienna
Common
Crate
Recipe
None
1 Rootberry
26 Shells
11 Mushrooms
2
Buttercup Yellow
Uncommon
Crate
Recipe
None
1 Bumbleberry
9 Mushrooms
28 Shells
5
Carrot
Unique
Pearl Shop (5 pearls)
Unknown
Unknown
Unknown
Cerise
Uncommon
Crate
Recipe
Dyemaking 2
1 Niftberry
2 Moondust
16 Shells
5
Cerulean
Common
Crate
Recipe
None
1 Skyberry
1 Noonberry
2 Moondust
2
Chalk
Common
Crate
Recipe
Dyemaking 2
1 Ghostberry
13 Bird Guano
2
Chestnut
Common
Crate
Recipe
Dyemaking 1
1 Earthberry
11 Mushrooms
2
Chocolate
Common
Crate
Recipe
None
1 Chocoberry
4 Stardust
16 Shells
2
Copper
Common
Crate
Recipe
None
1 Bossberry
4 Stardust
1 Golden Relic
2
Corn
Rare
Crate
Recipe
Level 36 reward
Dyemaking 3
1 Cornberry
3 Stardust
26 Shells
10
Cream
Common
Crate
Recipe
Dyemaking 1
1 Creamberry
1 Iceberry
13 Bird Guano
2
Eggplant
Common
Crate
Recipe
Level 12 Reward
None
1 Riddleberry
11 Mushrooms
2
Emerald
Rare
Crate
Recipe
Level 39 Reward
Dyemaking 2
1 Hiberry
1 Dreamberry
3 Moondust
10
Empress Purple
Uncommon
Crate
Recipe
Dyemaking 2
1 Fizzberry
12 Mushrooms
5
Fern
Common
Crate
Recipe
None
1 Tubeberry
9 Mushrooms
28 Shells
2
Forest
Common
Crate
Recipe
None
1 Sketchberry
2 Moondust
2
Fuchsia
Scarce
Crate
Level 48 Reward
Unknown
Unknown
Unknown
Gold
Common
Crate
Recipe
Dyemaking 3
1 Goldberry
1 Smokeberry
4 Golden Relic
2
Goldenrod
Unique
Pearl shop (4 pearls)
Unknown
Unknown
Unknown
Gray
Uncommon
Crate
Recipe
Dyemaking 2
1 Moonberry
13 Bird Guano
26 Shells
5
Green
Common
Crate
Recipe
None
1 Teaberry
2 Stardust
27 Shells
2
Gritty Green
Rare
Crate
Recipe
Dyemaking 3
1 Saskaberry
21 Shells
10
Grubby Green
Common
Crate
Recipe
Dyemaking 1
1 Crocberry
1 Golden Relic
3 Moondust
2
Happy Yellow
Uncommon
Crate
Recipe
Level 21 Reward
None
1 Brightberry
4 Stardust
5
Indigo
Unique
Pearl Shop (5 pearls)
Unknown
Unknown
Unknown
Lavender
Uncommon
Crate
Recipe
Dyemaking 2
1 Wiseberry
1 Fogberry
2 Moondust
5
Lemon
Unique
Pearl Shop (5 pearls)
Unknown
Unknown
Unknown
Lime
Uncommon
Crate
Recipe
Dyemaking 2
1 Rainbowberry
7 Bird Guano
24 Shells
5
Lunar Gray
Common
Crate
Recipe
None
1 Rockberry
22 Shells
2
Magenta
Unique
Pearl Shop (5 pearls)
Unknown
Unknown
Unknown
Mahogany
Common
Crate
Recipe
Dyemaking 1
1 Woodberry
3 Stardust
31 Shells
2
Maroon
Unique
Pearl Shop (4 pearls)
Unknown
Unknown
Unknown
Mauve
Uncommon
Crate
Recipe
Dyemaking 2
1 Candyberry
1 Quickberry
3 Moondust
5
Midnight
Uncommon
Crate
Recipe
None
1 Devilberry
1 Nightberry
4 Stardust
5
Mint
Common
Crate
Recipe
Dyemaking 1
1 Dozeberry
4 Stardust
2
Navy Blue
Common
Crate
Recipe
None
1 Catberry
1 Blueberry
10 Mushrooms
2
Nightshade Purple
Uncommon
Crate
Recipe
Dyemaking 2
1 Duskberry
3 Moondust
7 Mushrooms
5
Ocean Blue
Common
Crate
Recipe
Dyemaking 1
1 Seaberry
21 Shells
8 Mushrooms
2
Octopus Orange
Common
Crate
Recipe
None
1 Thistleberry
3 Stardust
2
Old Orange
Uncommon
Crate
Recipe
Dyemaking 1
1 Dryberry
3 Stardust
24 Shells
5
Olive
Unique

Pearl Shop (5 pearls)

Unknown
Unknown
Unknown
Orange
Unique
Pearl Shop (5 pearls)
Unknown
Unknown
Unknown
Peach
Unique
Pearl Shop (5 pearls)
Unknown
Unknown
Unknown
Periwinkle
Unique
Pearl Shop (6 pearls)
Unknown
Unknown
Unknown
Pickle Green
Rare
Crate
Recipe
None
1 Frogberry
7 Bird Guano
10 Mushrooms
10
Pink
Common
Crate
Recipe
Dyemaking 1
1 Pureberry
3 Stardust
14 Bird Guano
2
Plum
Scarce
Crate
Unknown
Unknown
Unknown
Plum Purple
Uncommon
Crate
Recipe
Dyemaking 2
1 Chronoberry
1 Coffeeberry
22 Shells
5
Polar White
Scarce
Crate
Unknown
Unknown
Unknown
Purple
Unique
Pearl Shop (5 pearls)
Unknown
Unknown
Unknown
Raging Red
Uncommon
Crate
Recipe
Dyemaking 3
1 Tartberry
11 Mushrooms
29 Shells
5
Rascal Red
Rare
Crate
Recipe
Level 30 Reward
None
1 Heartberry
13 Mushrooms
10
Raw Sienna
Unique
Pearl Shop (4 pearls)
Unknown
Unknown
Unknown
Red
Unique
Pearl Shop (5 pearls)
Unknown
Unknown
Unknown
Royal Blue
Common
Crate
Recipe
None
1 Royalberry
27 Shells
2
Ruby
Rare
Crate
Recipe
Dyemaking 3
1 Goodberry
2 Golden Relic
3 Moondust
10
Rugged Red
Common
Crate
Recipe
None
1 Hotberry
25 Shells
8 Bird Guano
2
Rust
Uncommon
Crate
Recipe
Dyemaking 2
1 Rustberry
1 Golden Relic
14 Shells
5
Salmon
Uncommon
Crate
Recipe
None
1 Snackberry
22 Shells
8 Bird Guano
5
Scarlet
Unique
Pearl Shop (5 pearls)
Unknown
Unknown
Unknown
Sea green
Uncommon
Crate
Recipe
None
1 Lightberry
23 Shells
11 Bird Guano
5
Sepia
Unique
Pearl Shop (4 pearls)
Unknown
Unknown
Unknown
Silver
Scarce
Crate
Level 51 Reward
Unknown
Unknown
Unknown
Sky Blue
Common
Crate
Recipe
Dyemaking 1
1 Cloudberry
24 Shells
2
Tan
Unique
Pearl Shop (4 pearls)
Unknown
Unknown
Unknown
Tangerine
Scarce
Crate
Level 45 Reward
Unknown
Unknown
Unknown
Teal
Uncommon
Crate
Recipe
Level 15 Reward
None
1 Sweetberry
1 Starberry
12 Bird Guano
5
Turquoise
Common
Crate
Recipe
None
1 Fishberry
29 Shells
11 Bird Guano
2
Umber
Unique
Pearl Shop (4 pearls)
Unknown
Unknown
Unknown
Violet
Rare
Crate
Recipe
Level 27 Reward
Dyemaking 3
1 Queenberry
20 Shells
10
Yellow
Common
Crate
Recipe
Dyemaking 1
1 Chuckberry
10 Bird Guano
11 Mushrooms
2